Try Before You Buy!
~Rentals are currently down until the pandemic is under control. We don't want to put any of our customers or their families at risk. Thank you!~
The GameBoard is the source for game purchases. Our in-store gaming staff is here to answer questions and assure you get great personal service.
For companies, consider buying games for the employee break area or rent games on a rotating basis to keep the interest going. Gaming is a fun way to build teamwork ethics.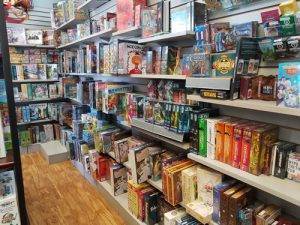 Unlike other game stores or online retailers where your only option is to buy a game, The GameBoard offers the innovative option to try before you buy. Through our rental program, you can select from more than 300 demo games to rent for the night. The demo game selection is updated frequently so stop at the store to see the new offerings. An added benefit of renting is that the rental fee is applied to the purchase price if you decide you want to own the game.
GameBoard founder, Lynn Potyen, developed the rental concept in 2009. It has proven so successful that she travels the world consulting with other game storeowners in the Table Top Industry on how to start a program of their own. That's innovation for all!
Hoping to receive a game as a gift? The GameBoard staff offers gift coins and maintains a wish list for anyone to provide gift ideas for family and friends. Our gift coins easily fit in a pocket, come in $5 and $10 increments, and work as gift cards do. Want to give a game? Our staff will help you choose just the right thing to make the perfect birthday, holiday or other occasion special.