Playing Games
Hello GameBoard,
Our in-store play, for the foreseeable future, continues to be suspended. As soon as the second floor of 621 N 8th St is finished, we will be hosting events again. We are open to shopping Mon-Fri 11am-7pm, Sat 11am-6pm, and Sun 11-3pm.
Peace!
Be safe,
❤Lynn and The GameBoard Team
Parties
When we host a game party in our store for you, it includes over 300 games to select from (you can play any number you choose), snacks and a beverage for all partygoers. The game party is led by one of our store staff who brings excitement and knowledge. Consider a casino night, a custom themed game party, or holiday party.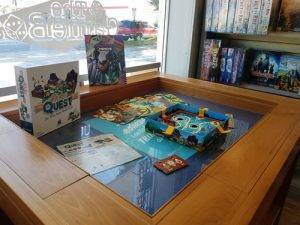 Leagues/Tournaments
For an expanded gaming experience, join one of The GameBoard's groups. Leagues and clubs meet weekly, depending on the game.
When we host tournaments, we choose specific dates and the competition is for prizes.
Casino Night
These are some of our most popular events for private and corporate functions. They occur at The GameBoard or the location of your choosing and last from two to four hours. You have the choice of four to six of the following table games: roulette, craps, poker, blackjack, and more. The GameBoard provides the pit boss and dealers for each table/game and handles all the details from set-up to clean up.
Field Trips
The GameBoard is a great destination for group outings of all ages such as school classes, church groups, day cares, and seniors. Our staff can help select appropriate games and get your group started playing immediately without having to read through and discern the game rules.