History & Background
The GameBoard has been involving people in playing games since 2006. We're THE place where camaraderie, strategy, imagination and entertainment come together in a gaming experience that's fun for everyone.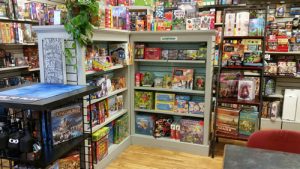 Our game selection is amazing and changes quickly to be current with the fast-paced world of gaming. You'll find board games, collectible card games, fantasy games, educational games and party games. We focus on games that require strategy and creative thinking.
Gamers of all ages are welcome to play any of our demo games at the store or bring them home for a test drive with an overnight rental. Then if you decide to purchase, you'll already know exactly how to play the game. An added bonus, the rental fee is applied to the purchase price.
We encourage good behavior, great attitudes, and brain health. Kids and adults welcome our enriched environment and parents appreciate the reinforcement of positive behaviors. All of this results in working together, building relationships, and overall family and community growth.
We're a Third Place
As a means to build community, a third place is a social surrounding different from the two usual social environments of home ("first place") and workplace or school ("second place"). According to Ray Oldenburg in his book The Great Good Place, third places are "anchors" of community life and facilitate and foster broader, more creative interaction. He notes these as hallmarks of a true "third place":
refreshments available
highly accessible
involve regulars – those who congregate there often
welcoming and comfortable
both new friends and old should be found there
At The GameBoard we offer all these features and more, so make us your third place!
For a more expanded back story of where the GameBoard idea came from, visit Our Story.