(Very Fine Folks!)
Lynn Potyen is the sole owner of The GameBoard. She loves people and games and magically brings the two together harmoniously. Lynn has successfully built a safe "community" for all ages in Sheboygan through The GameBoard. Besides running the store she travels the world speaking at many conferences/seminars about brain games and building community. She is the creator of the Rental Model and has served on the retail board of the Game Manufacturers Association for three terms. Locally, she served on the task force creating a Dementia Friendly Sheboygan County, is a continuing member of the Government Affairs Committee at the Sheboygan County Chamber of Commerce, sits on the RCS (Rehabilitation Center of Sheboygan) Advisory board, and is the lead for the Sheboygan Challenge Passport program.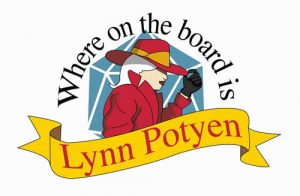 Caitlin Bramm is the Manager of The GameBoard, she began in December of 2019.
What is your favorite game genre?
"Resource management and tile laying games are my favorites styles. I enjoy the randomness that comes with tile laying. Normally you're changing the board all the time which keeps it interesting. That's probably why I enjoy resource management, I enjoy managing things."
What is your favorite game of all time?
"Valeria Card Kingdoms. That is more of a resource management dice rolling game which adds to my love of dice. My dice goblin gets happy!"
What is your favorite board game memory?
"One of my favorites is when my board game group and I were playing Time Stories for the first time. If you don't make the right decisions correctly you have to restart the game. I'm just gonna say if someone is naked and in a pentagram, chanting, and asking for help, DON'T TAKE IT."
Annie Sugden is the Marketing Director.
What is your favorite game genre?
"I'm a big fan of abstract strategy games. There's something whimsical about having to solve a strange problem with strange methods."
What is your favorite game of all time?
"Sagrada. It's a little bit like if a Sudoku puzzle if you had to draft each number you put on the grid. You have to make sure all the rows and columns are different numbers to get the most points, but the real obstacle is making sure you draft all the right dice. Also, it's stained glass window themed and makes for an absolutely gorgeous board once the game if finished."
What is your favorite board game memory?
"My grandparents lived in Chicago and couldn't visit us very often, but when they did, my mom, brother, and grandma would sit around the table to play Racko. It was especially fun since we got to make root beer floats before the game started so we'd have a good sugar high by the time we got to passing cards around."
JJ Hameister is the Board Game Guru.
What is your favorite game genre?
"Social deduction games. I think it has something to do with the way that you interact with the people that you're playing with. It's completely different from the way you play any other genre. You have to interpret what other people say and do that you don't generally do while spending time with friends."
What is your favorite game of all time?
"Above and Below. It was one of the first board games that made me realize that I really enjoy brain board games. I enjoy Ryan Lochte's art. It's beautiful and the fact that you get to go on little adventures and read out of the adventure book is great. It builds the world; it's very immersive and magical. It's just a really great experience in addition to being a really great game."
What is your favorite board game memory?
"One of my cousins brought Betrayal at House on the Hill along to Christmas one year and we had fun playing it literally all night. And now it's kind of a tradition. Every Christmas either me or one my cousins just bring a bunch of board games and we play them all in the basement of my grandparents house. It's really great. We get together and we play games with people that we don't get to see very often."
Salem Turchan
What is your favorite game genre?
"For board games I love card drafting and resource management. -but I am a sucker for dice. Whether its drafting them or rolling them to determine the outcome of a battle, there sure is something about those tasty little plastic morsels. I tend to play more designer games that sit between American and Euro styles, with medium crunch/weight."
What is your favorite game of all time?
"It would probably be The Island of Eldorado from Eldorado Games. I really like it because with the exploration you add tiles and create the map as you move through it, so every game feels different. I also like the resource management element of it as well and beyond that, the game is just gorgeous and all of the pieces feel very premium and high quality which is very important for me."
What is your favorite board game memory?
"Early when I started getting into the hobby, my partner and I had picked up a game called Here to Slay and I thought it was really cute, but I wasn't into board games at the time. We played it five times in a row and it's one of my favorite games now. I have a lot of good memories attached to it specifically, it has stood the test of time for our family."
Nick Whitford
What is your favorite game genre?
"Table Top Roleplaying Games or TTRPGs. I love the ability to build a world and then go play in it, or the same but with a character and then go play in the world, to have magic when I really don't have magic."
What is your favorite game of all time?
"There is a game called Plague and Pestilence and I used to play it a ton, but you can't find it anymore. Well, you can but you have to pay hundred twenty dollars for a copy. The art is awesome, the game play is easy and sociable, and it is where you either play to hold out to the end or screw over your opponents. Both are valid strategies, you just can't play both at the same time."
What is your favorite board game memory?
"So at the risk of sounding like it's all over, we were in a band and we made a game where you mash all the rules from as many other games as you can into one game. There's cribbage, old maid, crazy eights, Euchre, uno, slap jack, it's all in there. That became not just a game that we played a lot of, (we play tested the crud out of that game) it became an exercise in seeing if you can add useful and fun and meaningful rules from unexpected places. From a game design it's a mess and a half but so fun. So hard to teach people, but so fun. We called it Total War because it started from War."