Where It All Began...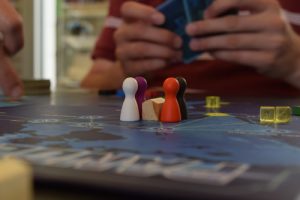 As with many successful businesses, The GameBoard began from a very personal need. In 2000, Lynn's son, Erik, was identified as having a severe speech delay as well as dysgraphia, which is a neurological writing disorder. School staff began therapy using board games available on the mass market to reengage Erik. But, he quickly became bored since those games were based on luck. Lynn Potyen did research and found European style games that required deeper strategy and more critical thinking. For six years she worked with Erik one-on-one, with his teachers, and even brought this new gaming concept into classrooms to share with Erik's classmates. To say this was a time of intense passion mixed with tears would be an understatement. But perseverance resulted in progress and the realization that others could benefit from playing these types of games.
In 2006, the GameBoard was unveiled as the solution to bring innovative game play for all to advance critical thinking and stimulate brain development. In the process, countless individuals who have been diagnosed with challenges of many types have been helped, and the community as a whole has advanced.
The GameBoard team members go through tests and are provided training on how to address the needs of our customers including dementia friendly training.