Education and Inspiration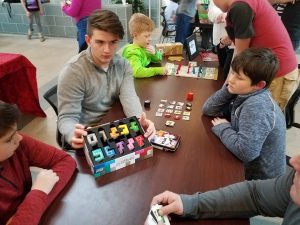 The GameExperiment program, developed by The GameBoard, is a combination of education and inspiration. This hands-on challenge for individuals is offered to schools and not-for-profit organizations and has proven successful with customers living with dementia and cancer.
1 Hour Game Lab
During a one-hour session, players move through a series of four games and a variety of experiences such as problem-solving and strategy creation. This session may be tailored to meet specific educational objectives including geography, math, memory, and reading.
Full Day Game Lab
The GameBoard will bring age appropriate games for your entire school. Our staff will help select appropriate games and plan your positive behavior program.  We work alongside your volunteers to get your group started playing immediately without having to read through and discern the game rules.
Please contact us for pricing.